Categories:
Other Brands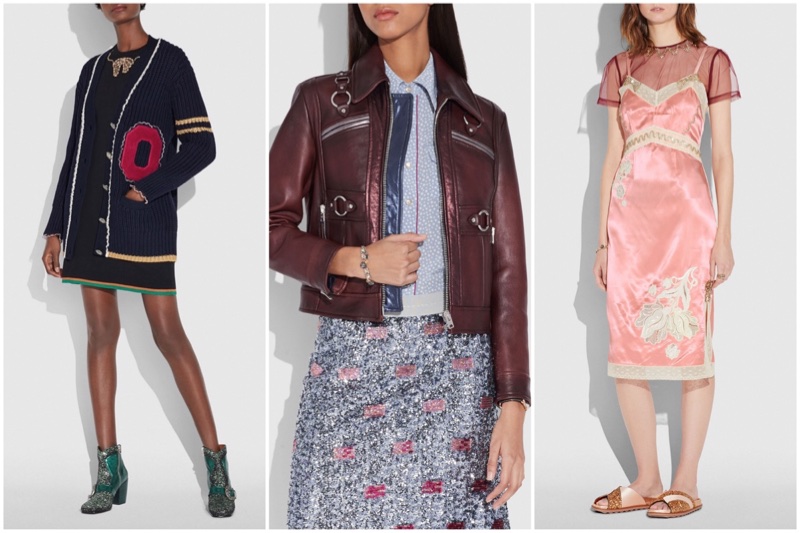 Coach's spring-summer 2018 collection arrives online
Fresh off of its recent New York Fashion Week runway show, Coach's spring 2018 collection has arrived online and in stores. The iconic American fashion brand unveils a new season of clothing, shoes and handbags. From pastel-colored slip dresses to embellished handbags and leather jackets, these statement pieces will upgrade your wardrobe easily. See some of our favorites from the spring-summer collection below, and shop the new season at Coach.com.
Related: Selena Gomez Looks Glam in Coach for Harper's Bazaar
COACH SPRING/SUMMER 2018 CLOTHING & BAGS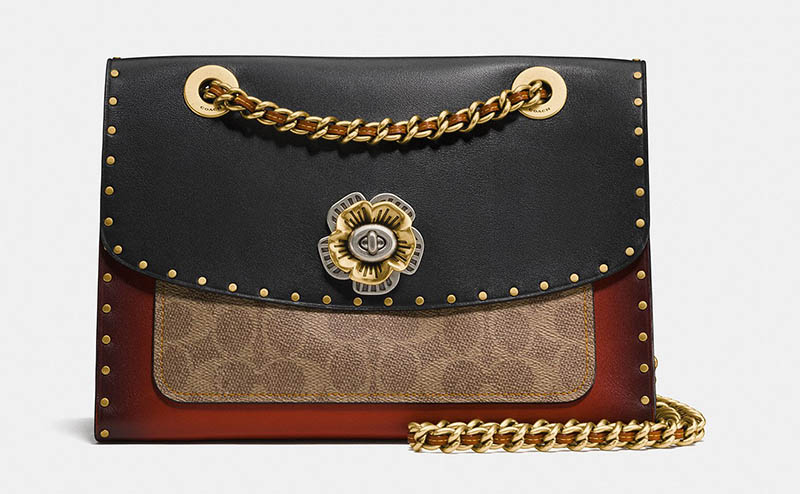 Coach 'Parker' Bag with Border Rivets and Snakeskin Detail $450
This bag is made from smooth leather with pockets at the front and back as well as a tea rose turnlock front.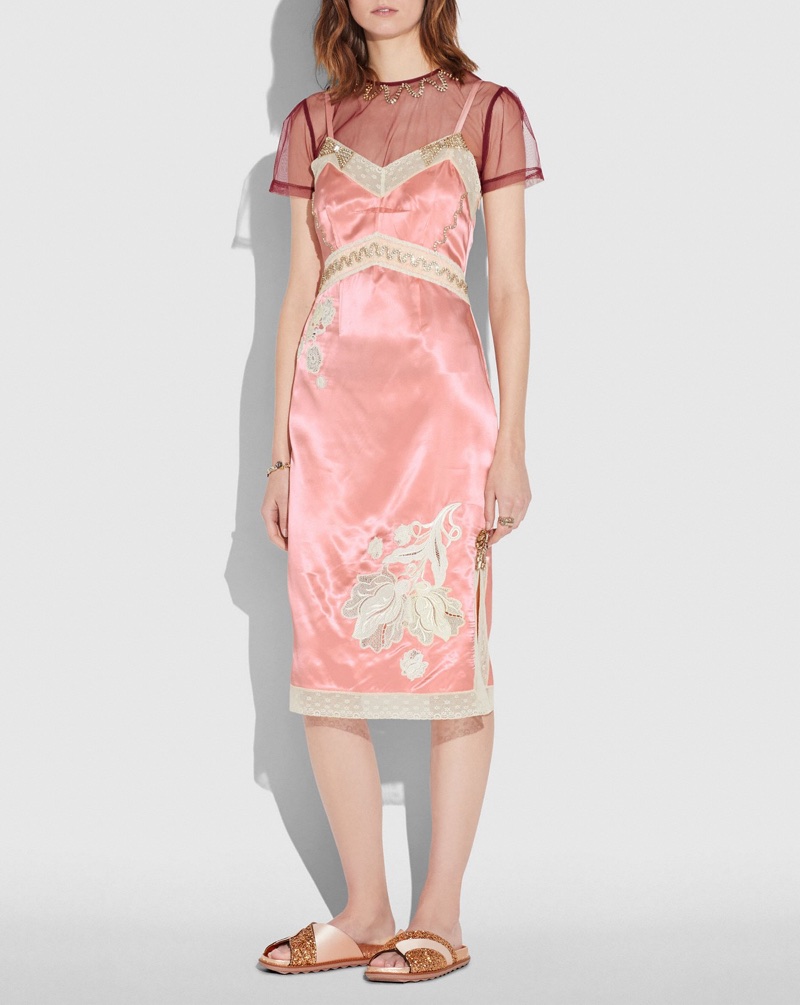 Coach Embellished Empire Slip Dress in Pajama Pink $995
Inspired by the 1950's, a slip dress features Coach's iconic tea roses with burnished stones and sparkling trim.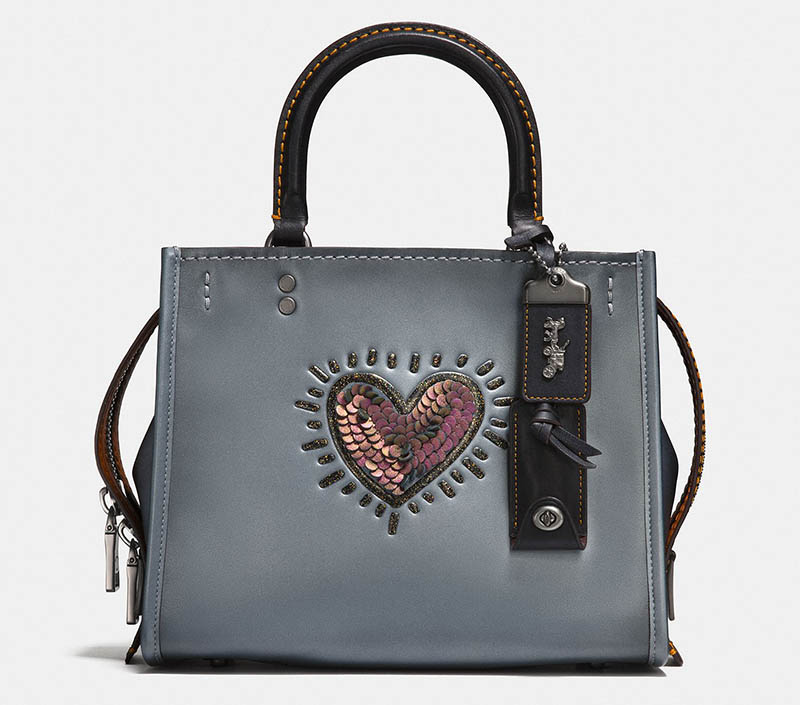 Coach x Keith Haring 'Rogue 25' Bag $650
Keith Haring's heart motif decorates the Rogue bag with leather sequins and glitter.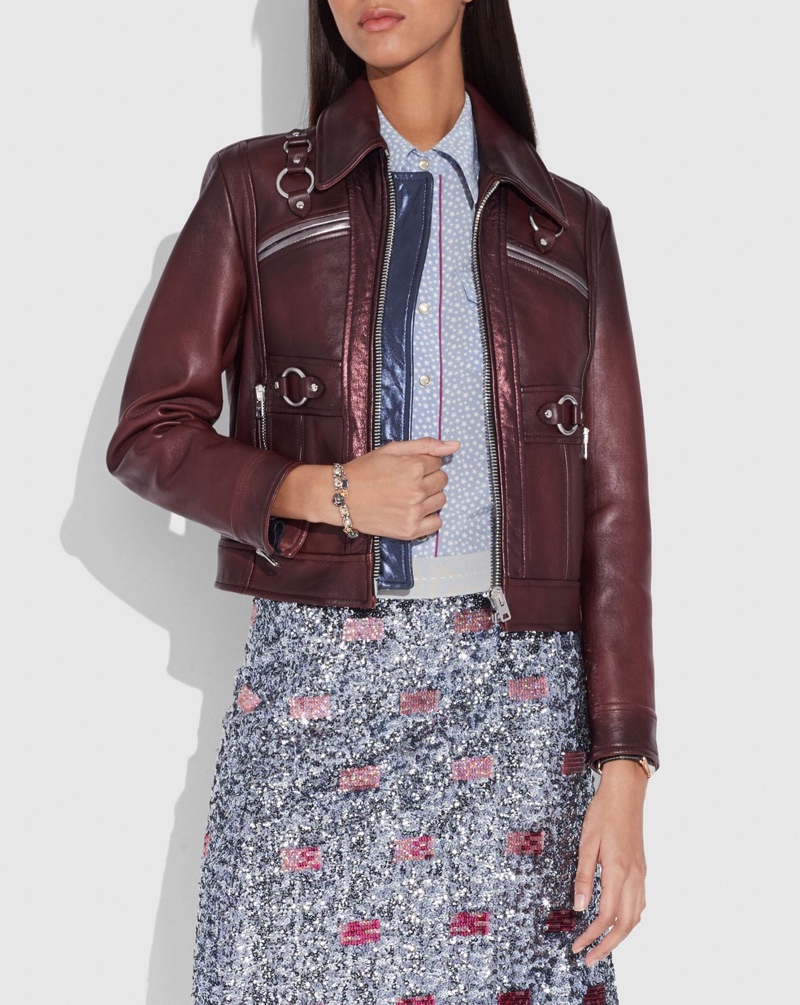 Coach Burnished Leather Jacket with Harness Detail $1,800
Made from 100% lamb leather, this jacket features a burnished vintage effect with harness hardware.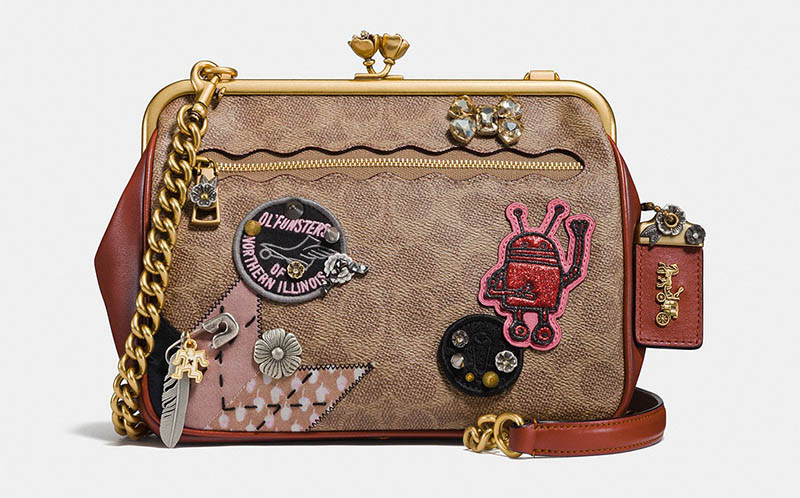 Coach 'Kisslock' Crossbody Bag in Signature Patchwork with Snakeskin Detail $495
A petite crossbody bag is decorated with Americana patches as well as a gold chain.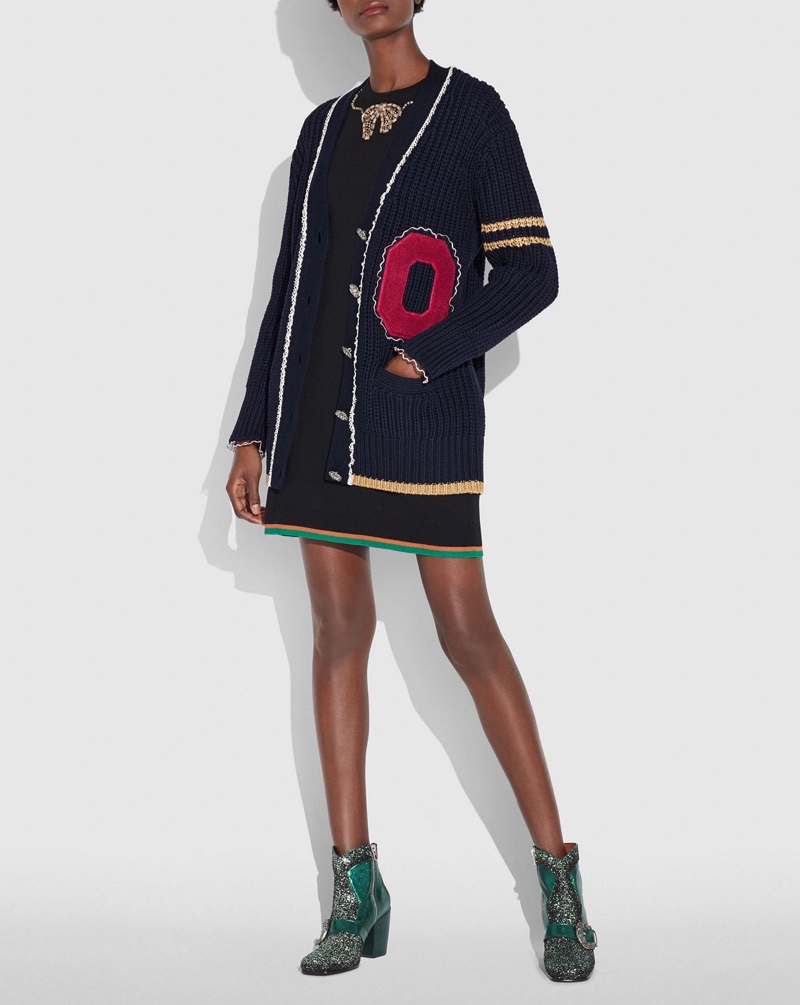 Coach Varsity Cardigan in Navy $850
A vintage inspired varsity cardigan comes in a ribbed knit with metallic trimming.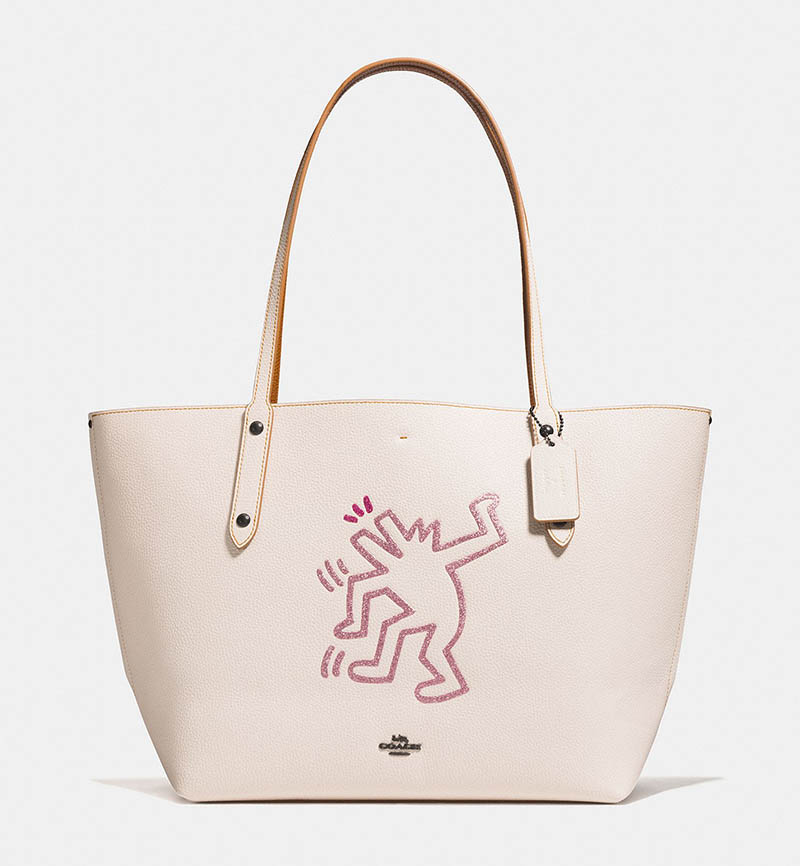 Coach x Keith Haring 'Market' Tote Bag $395
This tote bag features a playful illustration from artist Keith Haring.
comnum(0) tbcount(0) tbcount(288)
Categories:
Other Brands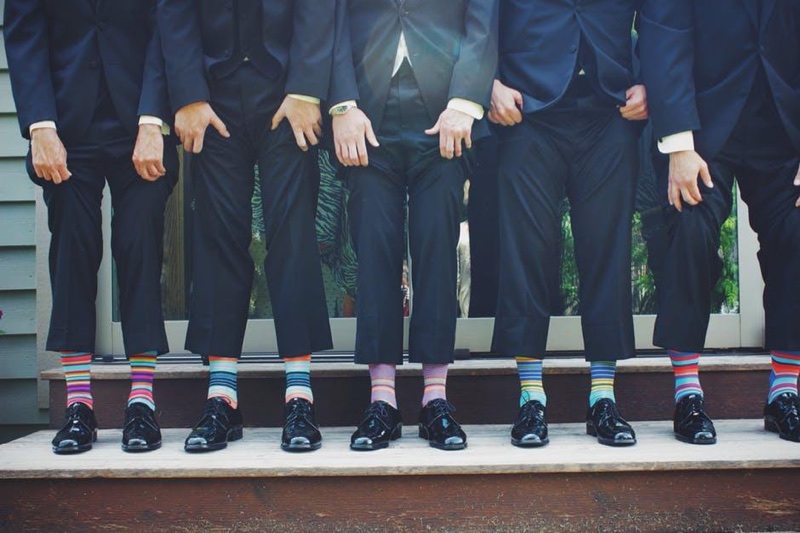 For a long time, the brides and the bridesmaids rule the fashion side of weddings. The bride's gown is more of a big deal than that of the groom's. In fact, the groom often chooses his attire to complement the bride's. Even the classic tradition of "something old, something borrowed, something new, something blue, a sixpence in your shoe" is more geared towards the bride who carries four objects as good luck charms.
Times are changing, however, as more and more trends come up to cater for the grooms and groomsmen. Whether it is about fashion or gift-giving, these trends add more flavor to the wedding.
GO FOR CASUAL
Weddings always seem to be too formal. It gives little room for a laidback theme, unless the venue is on a beach or a garden. But for men who want to forego the tuxedos and don a more comfortable outfit without the coat and the tie, then a casual look can do the trick. Many grooms opt for light colored slacks and button downs made of lighter material. This can be perfect on summer weddings. Others add accents to make it look more chic, such as vests and tweed jackets. Bow ties are also occurring more often.
When grooms go for the casual look, it is expected that groomsmen should follow. Some groomsmen wear khaki pants or blue jeans. They even skip the jacket and roll up their sleeves. Tie and suspenders can spice up informal outfits too.
MAKE THE SHOES FUN
Traditional leather is the norm but it does not mean you should follow it. Some try two-tone patent shoes. Others even go as far as comfortable sneakers. Just remember that although outfits do not always have to match your shoes, they should go together too. Choose something rustic for footwear but avoid being outrageous.
MISMATCH WON'T HURT
Another trend nowadays is the advent of mismatched outfits. Bridesmaids have been doing this for a while, but boys are catching up. Groomsmen can go together with the groom's laidback look by rolling up their sleeves and adding suspenders. They can wear different styles of suits in complimenting shades. This is very suitable in faraway weddings where the groom's entourage cannot find the time to buy or rent a suit together. It is wiser if they use what they own already. Some groomsmen even wear tops in different colors that still somehow go together.
PUT CREATIVITY IN GIFTS
The era of generic thank you gifts for groomsmen is over. Now a groom have so many options to choose from to let his entourage know how much he appreciates their presence and support. There are the customized caricatures that can bring great friends together or better yet, add more fun to liquor flasks and get them unique groomsmen caricature flasks. Others try to match the personality of the groomsmen to their gifts. Give bookworm Mike the newest edition of his favorite book series. Or a combat duffel bag for your adventurous buddy.
Traditional does not have to be boring. Mixing and matching outfits can make the special day more fun and unforgettable by not looking like everyone else's wedding. Grooms and groomsmen can be as relaxed or adventurous as they like, from outfits to gift-giving.
comnum(0) tbcount(0) tbcount(272)
Categories:
Other Brands
Balenciaga had made headlines with their Ikea-inspired blue bag as well as other newly-crafted never-seen-before handbags. They even created their own signature logo print. And now they're coming with the latest Balenciaga Ville Bag. I don't know how to describe it, but it does look like the Hermes Bolide Bag or the Louis Vuitton Alma Bag?
The Design
The Ville Bag is a true lady bag, but it depends on the style you choose of course. It's crafted with a nice curvy shape with a back patch pocket for accessing your instant-essentials. Unlike in the past, where you can choose Balenciaga bags only in classic styles in single colors, there are now lots of variations available. For example, you can have your Ville Bag with an oversized logo on the front. Or you can have it with money print all-over-its-body. Or even more urban, the Ville Bag is also available with graffiti.
The bag is made from grained calfskin, which is a smooth and luxurious leather. It comes with a top handle for hand carry but there is also a shoulder strap available that can be detached anytime you want. What's more? It comes with a padlock as the final refinement.
The Interior
Inside this bag, you will find the main compartment as well as a key zip and patch pockets. There are enough spaces to organize your essentials.
The Prices And Sizes
The measurement is unknown for now, the price for the logo version us also TBD.
More Images And Colors
comnum(0) tbcount(0) tbcount(206)
Categories:
Other Brands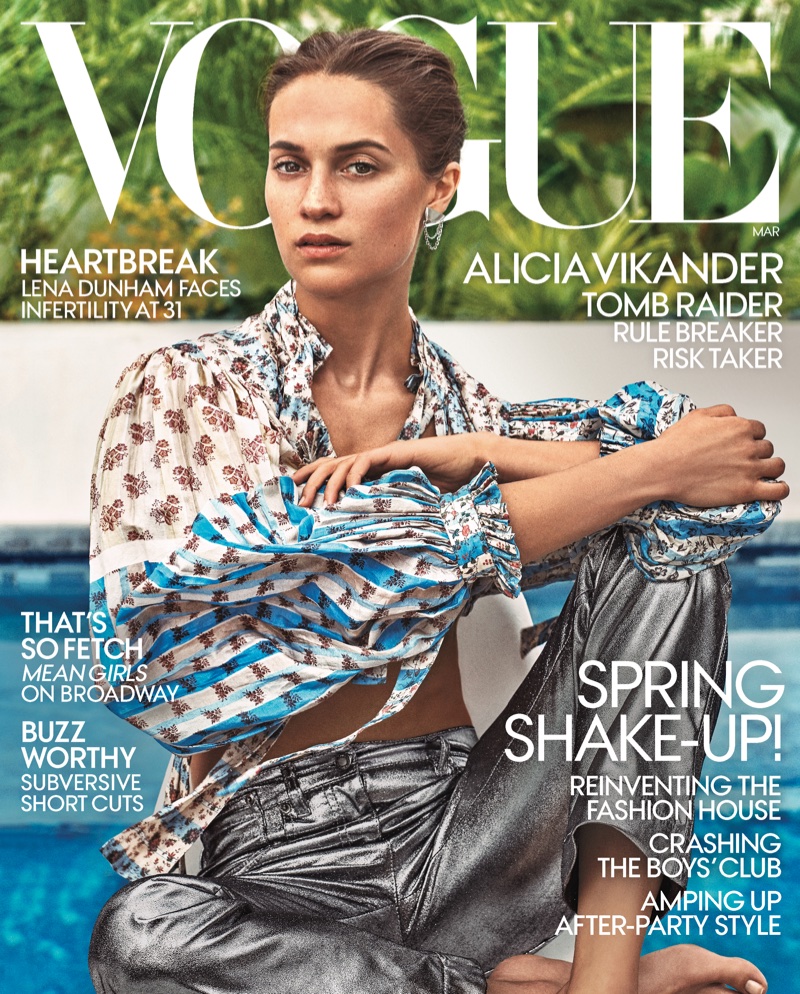 Alicia Vikander on VOGUE March 2018 Cover. Photo: Steven Klein
Actress Alicia Vikander graces the March 2018 issue of Vogue US. Captured by Steven Klein, the Swedish actress poses poolside in a Louis Vuitton top, pants and earrings. For the accompanying shoot, Alicia poses in sleek styles. Fashion editor Tonne Goodman dresses the 'Tomb Raider' star in designer looks from the likes of Proenza Schouler and Olivier Theyskens.
Related: Alicia Vikander Soaks Up the Sun in Louis Vuitton's Cruise 2018 Campaign
COVER SHOOT: ALICIA VIKANDER IN VOGUE MARCH 2018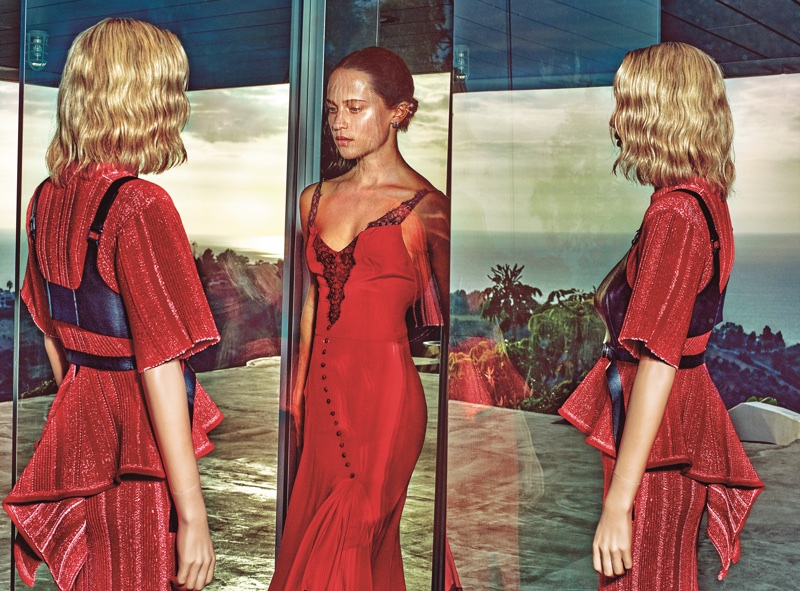 Actress Alicia Vikander poses in red Olivier Theyskens dress. Photo: VOGUE/Steven Klein
ALICIA VIKANDER ON MICHAEL FASSBENDER
In her interview, Alicia talks about working with her husband Michael Fassbender on 'The Light Between Oceans'.
"I think he's one of the absolute best actors I've worked with. Of course he'd done more films than me, but immediately when we started to work together he was so open to wanting me to chip in new ideas and thoughts. He would be like, 'I'm stuck; what should I do?' and I would say, 'You're asking me?' That was such a sweet thing. . . . Life is about a lot more than work, but if it's also your biggest passion, of course it's something you enjoy talking about."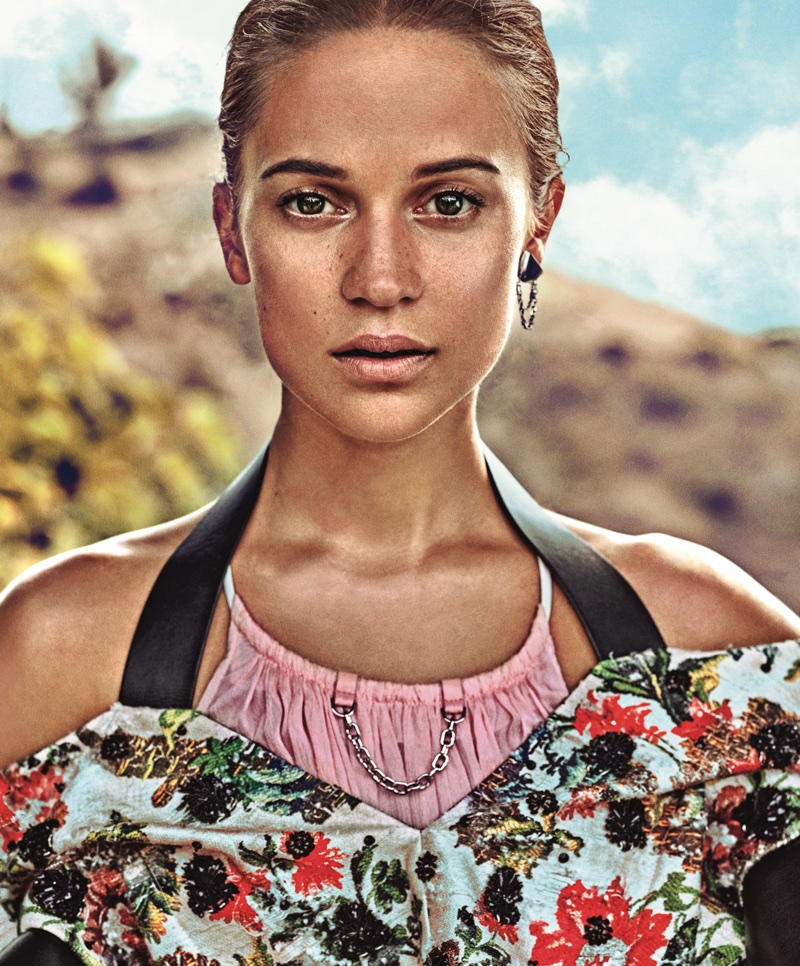 Ready for her closeup, Alicia Vikander wears Louis Vuitton blouse, dress and earring. Photo: VOGUE/Steven Klein
comnum(0) tbcount(0) tbcount(203)
Categories:
Other Brands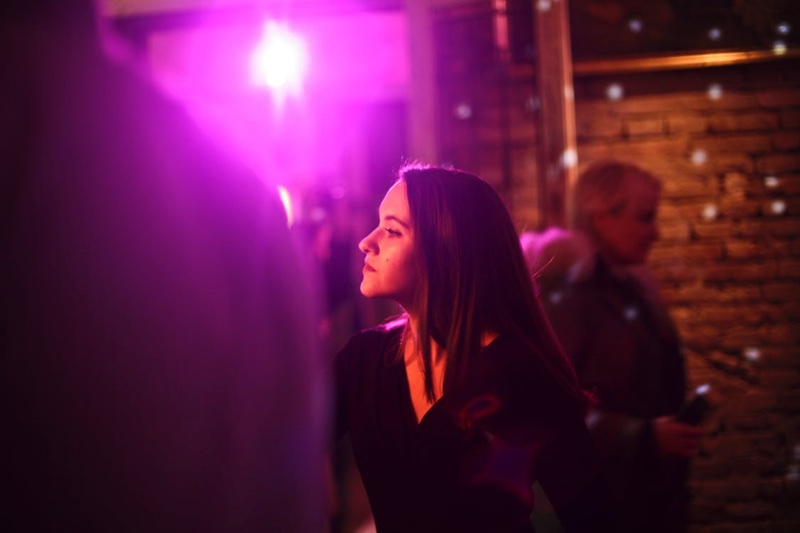 Photo: Pexels
There is perhaps nothing more glamorous than a night out at a fancy casino. Whether you plan on going for the gambling excitement or just to enjoy all of the different amenities, you can almost be assured that you will have a thrilling evening. The great thing about the modern age is how many of these casinos have sprung up all over the world. In North America, for example, you used to have to be very near a location like Las Vegas or Atlantic City, or else spend a lot of money on travel, to enjoy the casino experience. Laws that have allowed for the proliferation of these casinos means that most people in North America are a relatively close drive away from the one nearest to them.
Now that just about everybody has an opportunity to enjoy all the fun that a casino can bring, the question becomes how exactly should you dress for the evening. In the 50's and 60's, the most famous casinos demanded a kind of old-school respect, which meant that people had to be dressed in their finest to enjoy a night out at a casino, almost as if they were going to a black-tie occasion. Those rules have slackened, however, meaning that there are very few attire regulations, other than obvious ones, governing casinos. That said, most people would like to look fashionable in such a hot spot, which is why it's a good idea to have some pointers so you can dress the part at the casino.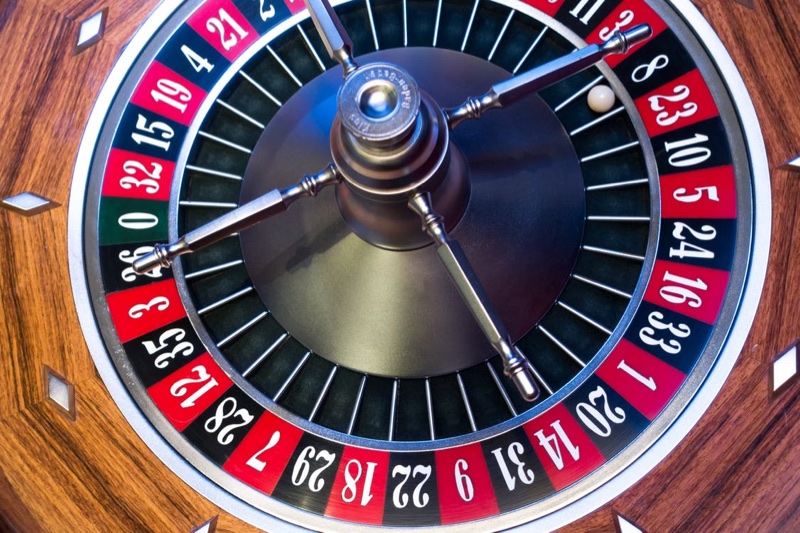 Photo: Pexels
Gambling from the comfort of your home
Some people don't want to have to worry about that, preferring instead to do their gambling from the comfort of their own home; if you're one of those people, you need to know where to find the best online slots casinos on the internet. If you are heading out to the casino tonight though, here are a few things to consider.
Know Your Plans
Most casinos offer much more than gambling to their patrons. You can find entertainment, food, and shopping amenities at the best casinos. As a result, you should decide first what kind of evening you'll be spending at the casino before deciding on your outfit. A person who just wants to hang out at a slot machine will have a different requirement of their clothes compared to someone going to a trendy dance club.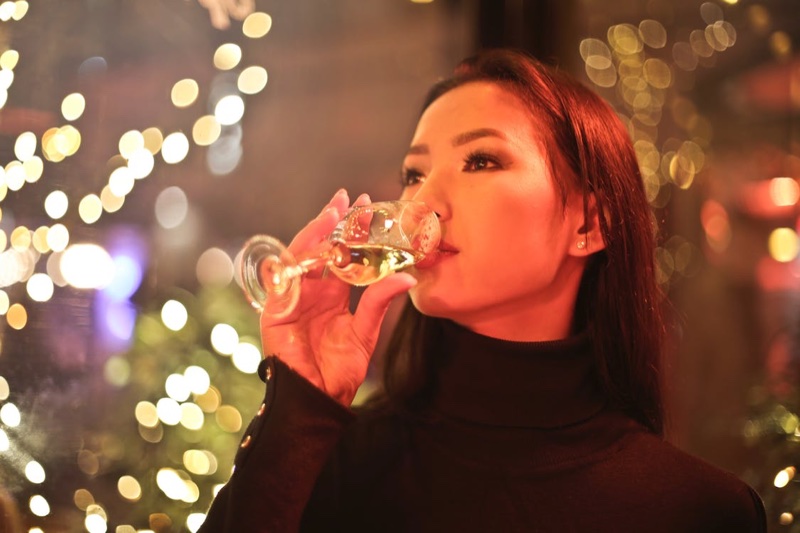 Photo: Pexels
Comfort Level
Again, this comes down to your plans. But if you are going to be spending a lot of time at the casino on a given night, you should make some concession to being comfortable. There are ways you can dress up for the night without overdoing it to the point that you're dying in a tight dress or stuffy collar all night long.
Know the Rules
While most casinos don't have a dress code per se, the establishments within the casino might. For example, a fancy steakhouse in a casino might require formal wear of some kind. Don't ruin your evening by not doing your homework about such information ahead of time.
Keep these little hints in mind when you're dressing for your night at the casino. Remember that it never hurts to look great while you're winning big.
comnum(0) tbcount(0) tbcount(192)
Categories:
Other Brands
Remember the Kan I F Shoulder Bag? It's the ultimate modern handbag for the 21th century. The logo, the bag, the look, everything is just perfect and obviously – it was an instant-runway-hit. Now to expand the line, the house created the Fendi Kan I F Shopping Bag. It's a new bag for the Spring Summer 2018 Collection.
The Design
A clean-cut shopping bag with minimalistic-chic finishing, the Kan I F tote bag is definitely a must have for the modern style. The most important part of the design is the centralized reversed F logo. This modern piece is not only stunning-beyond-words, but it's also a brand-new logo of Fendi. The double F logo is crafted with colored hardware (in the same shade as the handbag).
Made from strong and smooth calf leather, use this handbag without much care – there is no need for continues maintenance. The long top handle can be used to carry by hand or placed nonchalantly over one shoulder.
The Interior
Of course there is more. The interior comes with a chic detachable zipped pouch. And there is sufficient space to carry almost anything you need on daily basis and more. It can even hold your Macbook Pro.
The Prices And Sizes
Measuring 11' x 14.5' x 5' (H x W x D) inches, priced at $1290 USD, €980 EUR, £990 GBP, $1850 SGD, ¥154440 JPY.
Where To Shop Fendi Kan I F Shopping Bag?
1. MyTheresa – The classic black color can be found here…
2. Farfetch – More colors are available here…
More Images And Colors
Designer Bags, Wallet, Purse, Belt & Accessories Official Site, Best Price & Quality, Free Worldwide Shipping, Free Returns. Each Bag Is A Work Of Art - Handmade - Cowhide Art - Can Custom-Made

Categories

New Posts

Hot Posts