Categories:
Other Brands
You can't have missed the Chanel Coco Pleated Drawstring Bag as it was showcased multiple times on the Cruise 2018 Runway. There are also other types of the Coco Pleated Bag released; like the Coco Pleats Clutches. This drawstring bag is only available in this season and will be discontinued afterwards. It's one of the Ancient Greek inspired handbags.
The Design
The crumpled calfskin leather on the Coco Pleated Drawstring Bag has been fully covered in the Coco Pleats Clutch review. The crumpled calfskin is kind-of the soft version of the crinkled aged calfskin on the Reissue 2.55 Bag. Both are crunch, but the crumpled calfskin is slightly less.
The pleated design is quite interesting because it maintains the leather flexible while creating an interest stripe-contrast. Also, the woven chain leather strap is attached to a round-ancient-greek-inspired eyelets, which is quite unique. The drawstring is also made with woven chain leather strap but it features the oversized, bold CC logo. And oh yes, it's the same CC logo as on the Gabrielle Bag.
You can carry this back cross body, or cross body but then like a backpack on your shoulder. This bag is beautiful, unique and limited.
The Interior
Each of these drawstring bags is spacious. Depending on the size, you can load a lot of stuff inside. And the leather is flexible, so overstuffing is not recommended, but possible. It's the ideal bag if you need to transport a lot of essentials.
The Prices And Sizes
Chanel Small Coco Pleats Drawstring Bag
Style code: A91757
Size: 6.3 x 6.3 x 5.1 inches
Price: $3200 USD, €3150 euro, £2920 GBP, $5290 SGD, $27400 HKD, ¥419040 JPY,16650 MYR, $4375 CAD
Chanel Coco Pleats Drawstring Bag
Style code: A91759
Size: 9.8 x 9.4 x 6.3 inches
Price: $3800 USD, €3750 euro, £3480 GBP, $6300 SGD, $32700 HKD, ¥498960 JPY,19800 MYR, $5225 CAD
Chanel Small Coco Pleats Backpack
Style code: A57145
Size: 11.4 x 5.9 x 5.9 inches
Price: $5100 USD, €5150 euro, £4780 GBP, $8650 SGD, $44900 HKD, ¥684720 JPY,27200 MYR, $7175 CAD
Chanel Medium Coco Pleats Backpack
Style code: A57142
Size: 16.5 x 5.9 x 5.9 inches
Price: $5300 USD, €5350 euro, £4960 GBP, $8990 SGD, $46600 HKD, ¥711720 JPY,28260 MYR, $7450 CAD
Chanel Large Coco Pleats Backpac
Style code: A57146
Size: 18.9 x 9.4 x 9.4 inches
Price: $8200 USD, €8100 euro, £7510 GBP, $13610 SGD, $70600 HKD, ¥1077840 JPY,42780 MYR, $11250 CAD
More Images And Colors
comnum(0) tbcount(0) tbcount(121)
Categories:
Other Brands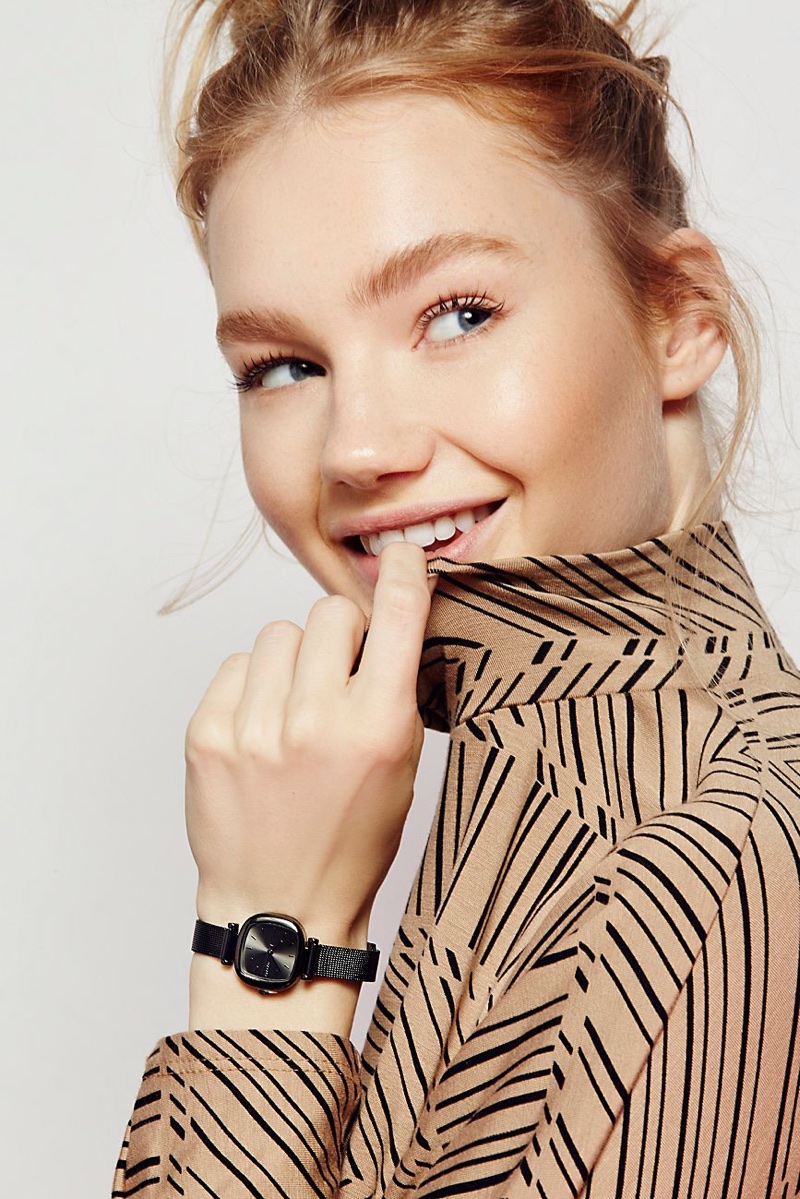 Photo: Free People
Women know the importance of a good watch. Whether it's used to accessorize or to stand out on its own, an excellent timepiece can make all the difference in the world when it comes to the overall fashion impact a woman makes on her audience. It's unlikely that you'll find a single watch that satisfies every occasion, but ideally, you'd like to have a few that are versatile and cover just about every possible outing you might have throughout your daily life.
When it's time to make a choice what kind of watch to buy, the choices are so endless it can be discouraging unless you have the time to peruse catalogs or internet pages for days on end. Few have that luxury, so it's a good idea to break your watch choice down to a series of smaller choices. In this way, you can narrow things down to a more manageable number of selections. Once you've done that, it will just be a matter of picking the one that strikes your personal fancy in just the right way.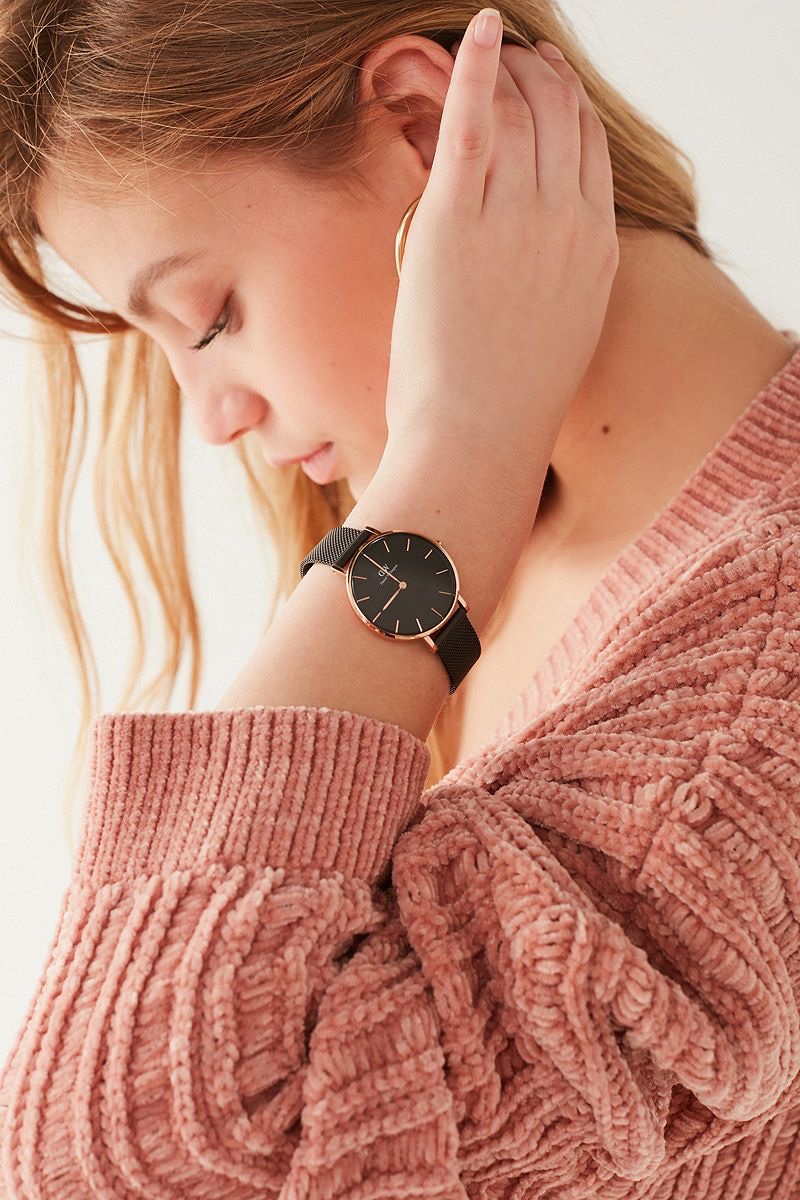 Photo: Urban Outfitters
If you're looking for something specific and unique, like a minute repeater watch, you need to find a dealer that can deliver those specifications with style. Here are three basic considerations that you need to make every time you decide it's time for a new watch.
SIZE
The size of the face will likely tell people a lot about what kind of stylistic impression you're trying to make. Smaller faces and slender bands are usually associated with femininity and subtlety. On the other hand, a large face is often a bold selection, and it can also reveal a playfulness and sportiness on behalf of the wearer. Maybe you're one or the other all the time, but most likely you'll like to have some of each on hand depending on your mood and the occasion.
ERA
For the next choice, ladies have to decide between going with a watch from a vintage era and finding something that's a bit more of a modern choice. Many women have more of a one or the other approach to this decision. It's hard to knock the look of a vintage watch with a style that has stood the test of time, as it shows the wearer possesses wonderful taste. But a woman who can pull off a modern watch, steps away from the classic lookmay have more of an opportunity to stand out from the crowd.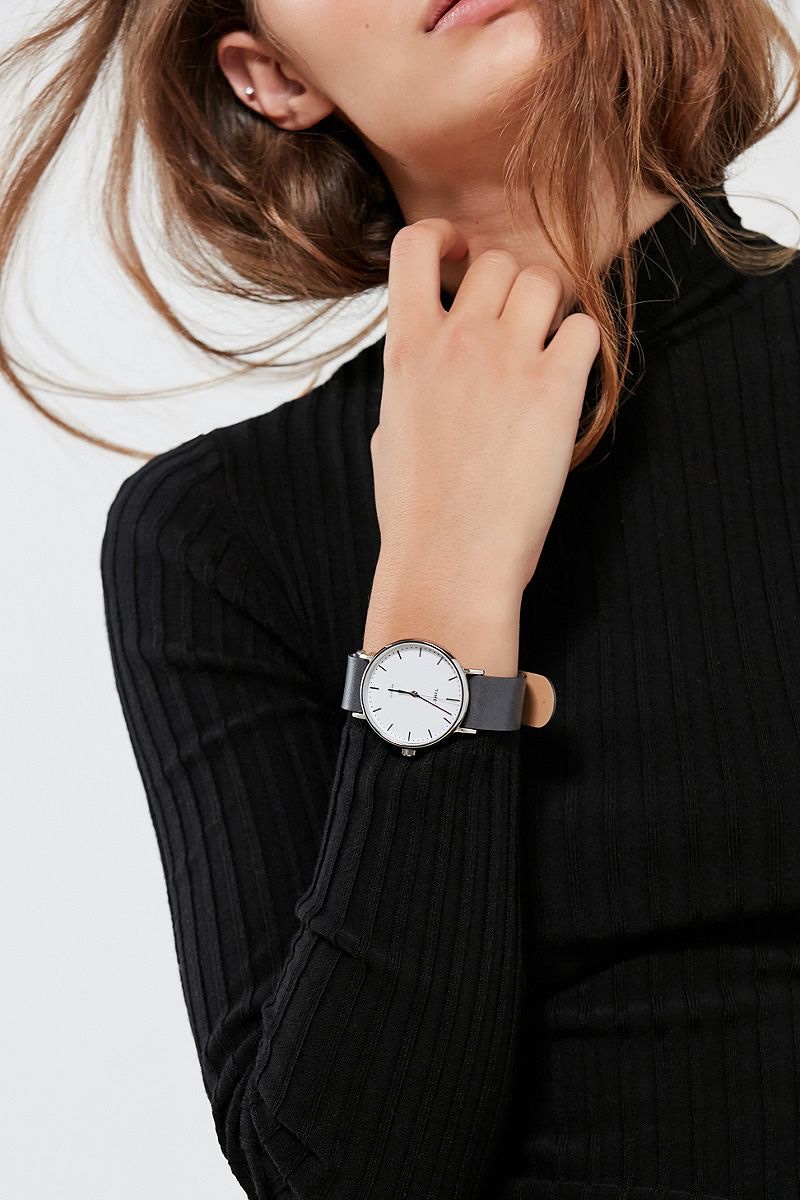 Photo: Urban Outfitters
MATERIAL
Rose gold is the one type of watch that is desired by just about all women, because of how it plays off just about any skin tone. The problem is that you're going to pay for that special luster. Gold, silver, polished stainless steel and aluminum is just some of the other options. Whether there is a place in your wardrobe for those largely depends on your personal style.
Once you've used these three qualifiers to group your favorite watches, choosing will be much easier. Or, if you actually enjoy browsing for days, you can do it that way too.
comnum(0) tbcount(0) tbcount(121)
Categories:
Other Brands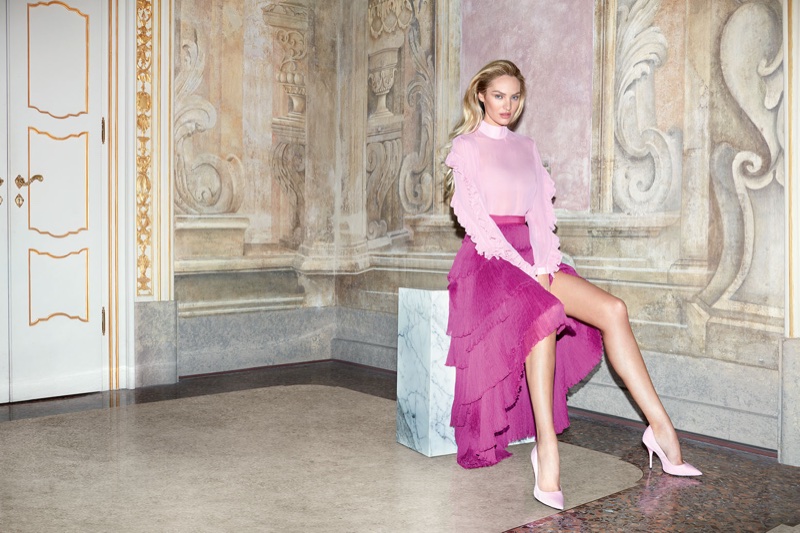 Candice Swanepoel stars in Miss Sixty's spring-summer 2018 campaign
Miss Sixty celebrates its origins with its spring-summer 2018 campaign. The Italian fashion brand once again taps Candice Swanepoel for the advertisements. Shot on location at its Milan showroom, the campaign juxtaposes contemporary style with 17th century paintings. Candice rocks denim on denim looks, asymmetrical skirts and cropped jackets for the shoot.
Related: Candice Swanepoel Looks Stunning in Rio de Janeiro for Vogue Brazil
CAMPAIGN: CANDICE SWANEPOEL FOR MISS SIXTY SPRING/SUMMER 2018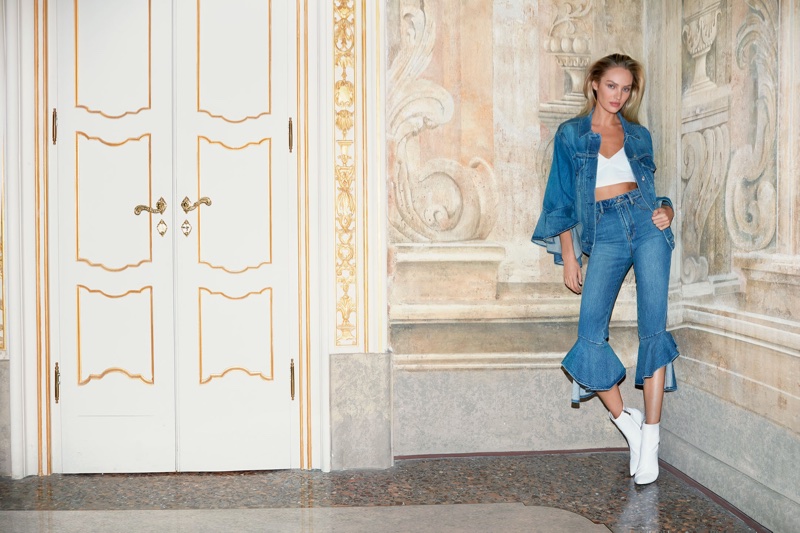 Model Candice Swanepoel wears denim on denim for Miss Sixty's spring-summer 2018 campaign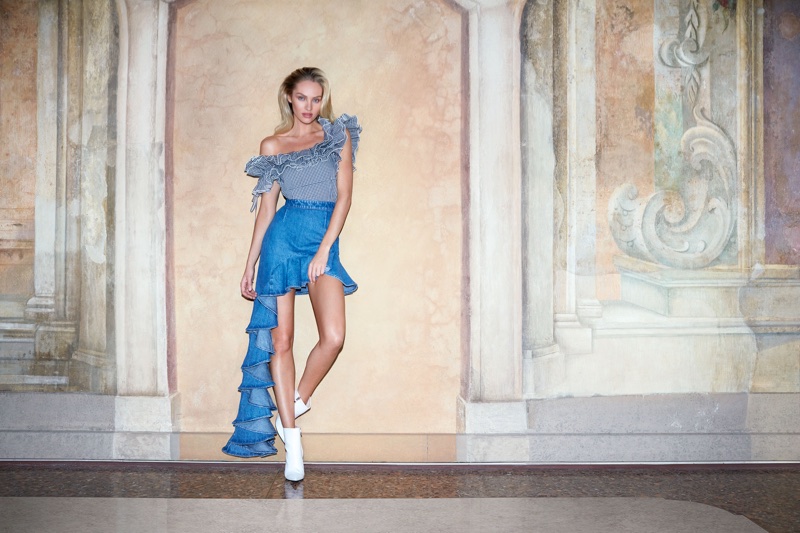 An image from Miss Sixty's spring 2018 advertising campaign with Candice Swanepoel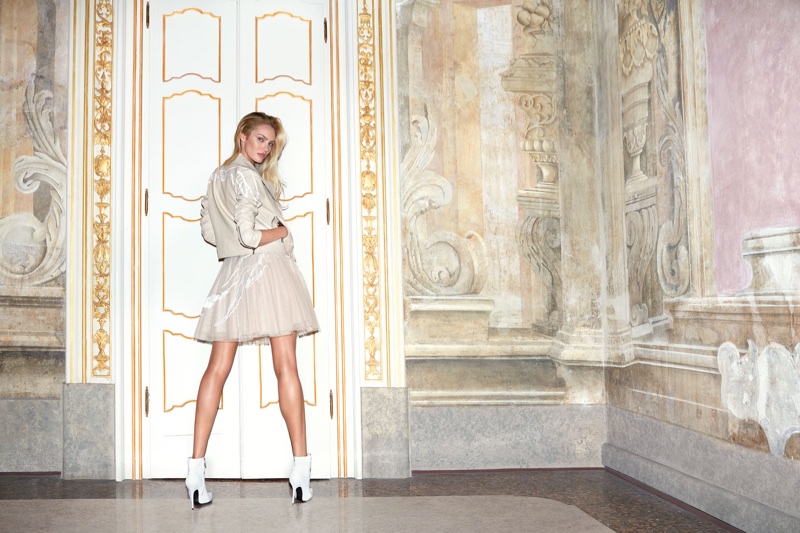 Candice Swanepoel poses in leather jacket for Miss Sixty's spring-summer 2018 campaign
comnum(0) tbcount(0) tbcount(122)
Categories:
Other Brands
Who doesn't know the Celine Trio Bag? Who doesn't want it? It's one of the well known handbags in the fashion world and it has been covered in numerous fashion news, personal blogs and Youtube video's. So the Trio Bag needs no introduction from me, but we'd like to write a nice review about it. Let's talk iconic, shall we?
The Design
Maybe it's the simplicity and maybe because it's cute as well. Then you can say that the Trio Bag is handy.
It got that nice rectangle/squared shape and it's certainly minimalistic. But that minimalism gives the appearance a classic look. It's like you can wear this handbag with almost any outfit and still it will look fabulous.
But let's be honest; the color choices are a killing. There are so many, but can you choose? Does the red look better? The dark green, burgundy perhaps? Or just the classic black to be save?
And like always, Celine's logo is printed very nicely and gently on the top center of this handbag. Lovely huh?
The Trio Bag is made from smooth lambskin, but you can also opt-in to liege calfskin, And of course, calfskin is a bit more durable.
Because this bag comes with a long shoulder strap (20 inch long), you can carry it on your shoulder or cross body. The leather strap can be adjusted to your comfort of course.
In general, the Trio Bag is made with three seperated zipped pouch that's attached together with snap buttons. And here's also the thing. You can transform the Trio Bag into a clutch bag by attaching together the two external pouch. Clever right?
I think this handbag is famous also because of its usefullness and at the same time, it's simple and easy to carry. And also, the price is affordable.
The Interior
The three seperated compartments are very handy because you can easily organize and structure your personal belonings. Each compartment or pouch can be opened with a zip. And each pouch can fit a lot of stuff like your wallet, a book, phone and basically all the things you need for your busy lifestyle.
The Prices And Sizes
There are two sizes available:
Celine Small Trio Pouch
Size: 9' x 6' x 2' inches
Prices: $1100 USD, €750 EUR, £690 GBP, $1400 SGD, $8500 HKD, $1350 AUD, ¥120000 JPY, ¥7900 CNY.
Celine Large Trio Pouch
Size: 10' x 7' x 2' inches
Prices: $1300 USD, €900 EUR, £830 GBP, $1700 SGD, $10500 HKD, $1650 AUD, ¥145000 JPY, ¥9600 CNY.
More Images And Colors
comnum(0) tbcount(0) tbcount(146)
Categories:
Other Brands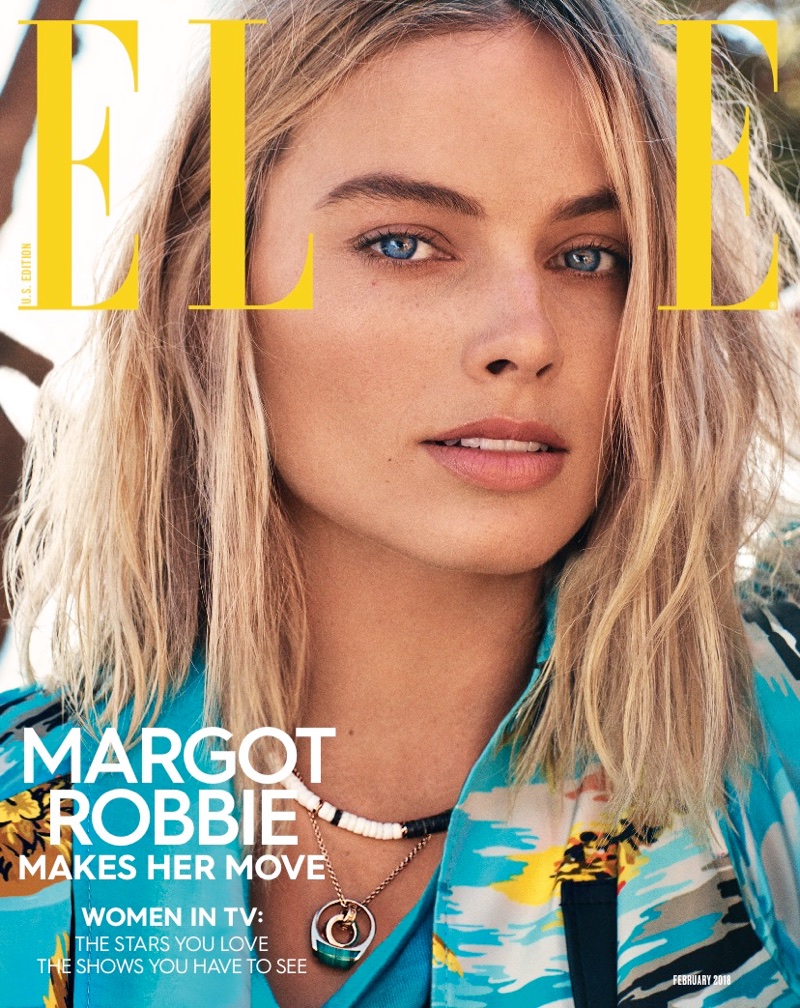 Margot Robbie on ELLE US February 2018 Cover
Actress Margot Robbie looks ready for her closeup on the February 2018 cover of ELLE US. Lensed by Alexi Lubomirski, the blonde stunner poses in a Coach 1941 printed jacket with a puka shell necklace from Dezso by Sara Beltrán and a Bulgari pendant necklace. In the accompanying shoot, Margot heads to the beach in colorful fashions. Stylist Samira Nasr dresses the 'I, Tonya' actress in the designs of Louis Vuitton, Stella McCartney, Missoni and more.
Related: Margot Robbie is a Natural Beauty in Vogue Australia
COVER SHOOT: MARGOT ROBBIE FOR ELLE FEBRUARY 2018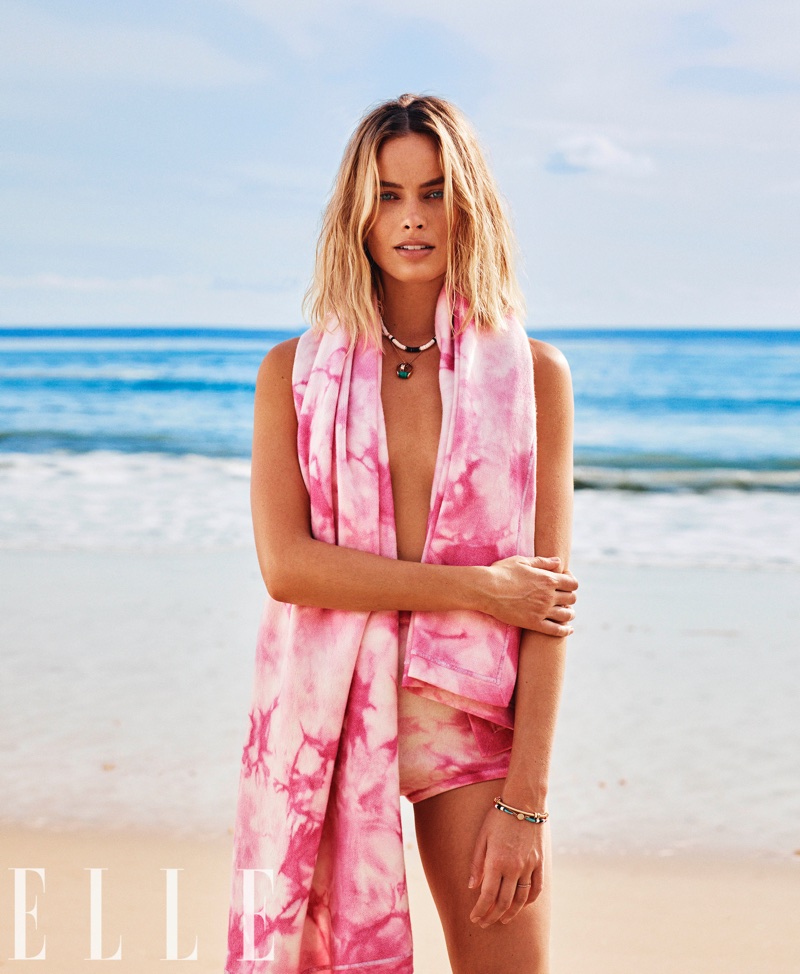 Posing at the beach, Margot Robbie wears Michael Kors Collection blanket and briefs
MARGOT ROBBIE ON HER FIRST CAREER HIGHLIGHT
In her interview, Margot talks about the first major purchase she made in New York.
"When I got to New York for the first time, I took my first paycheck, walked straight into Tiffany's on Fifth Avenue, and bought an airplane charm that goes on my bracelet. It was the best feeling ever. I got my little blue box, and I got it for myself."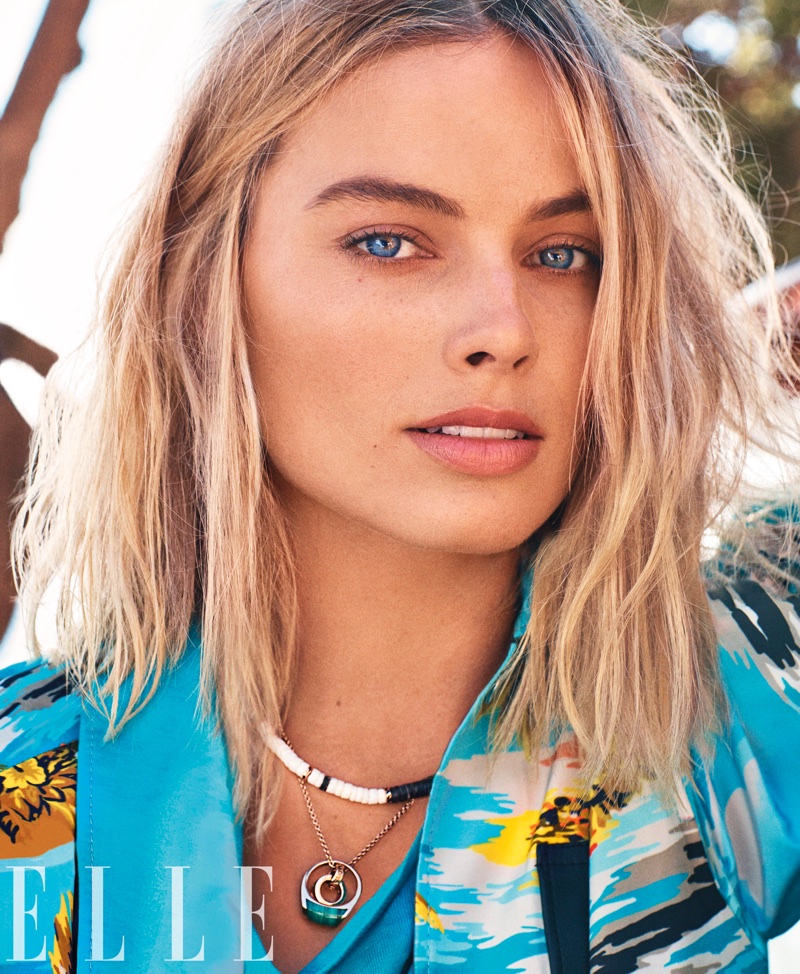 Margot Robbie wears a wavy hairstyle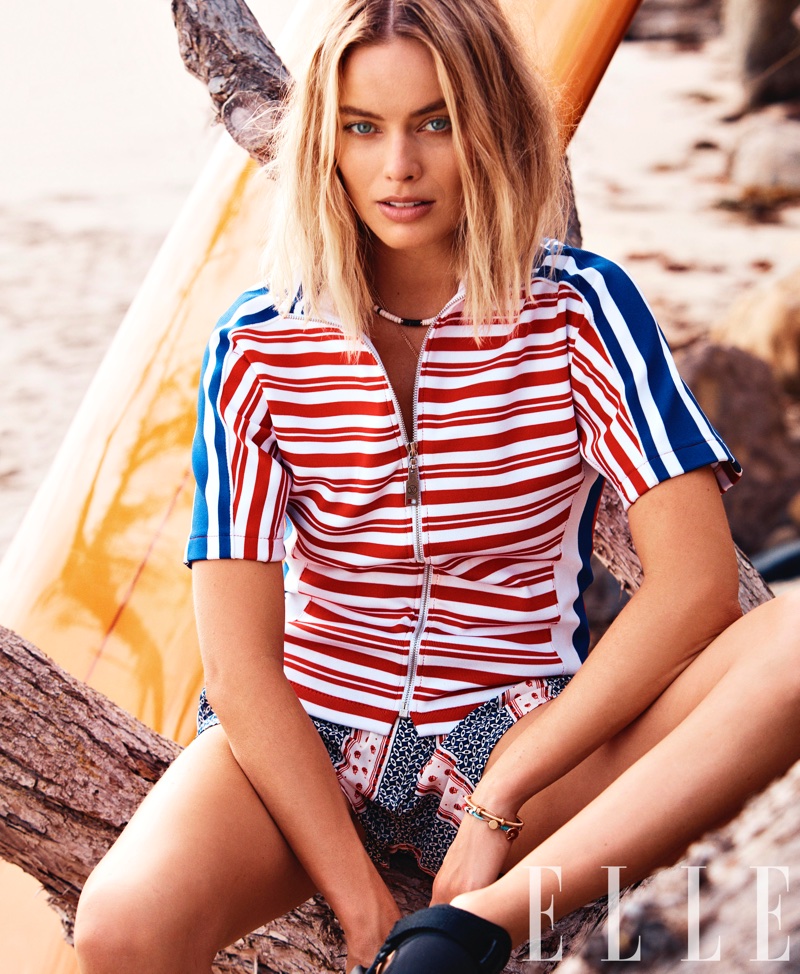 Actress Margot Robbie poses in Louis Vuitton printed top and shirt with Teva sandals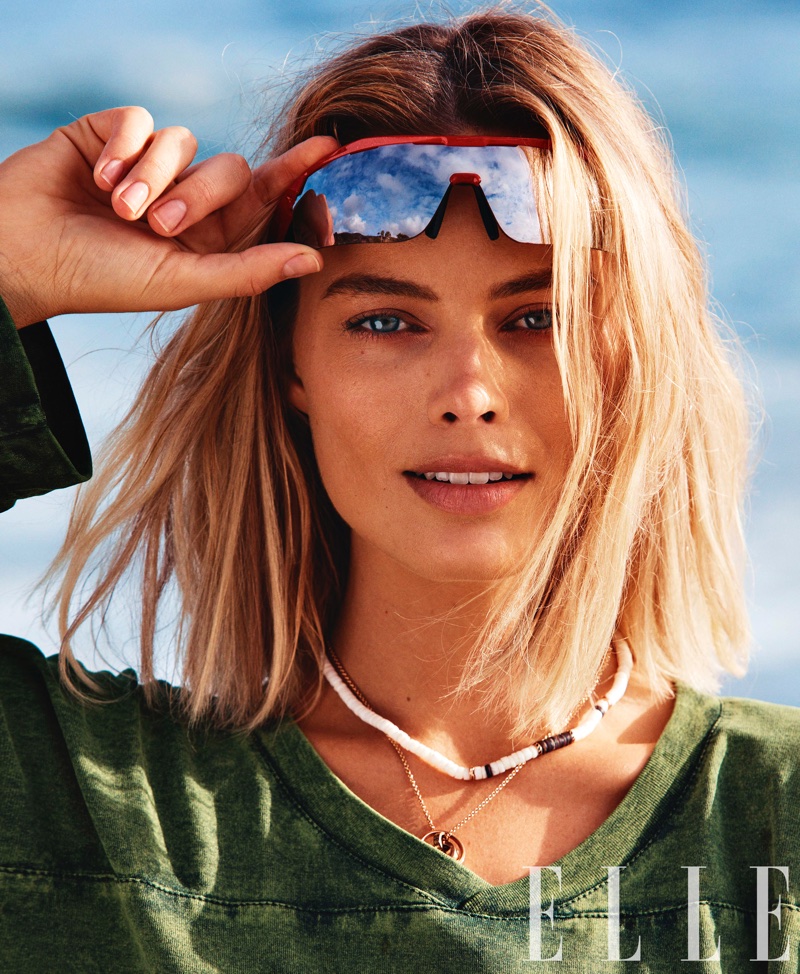 Margot Robbie wears Stella McCartney top and sunglasses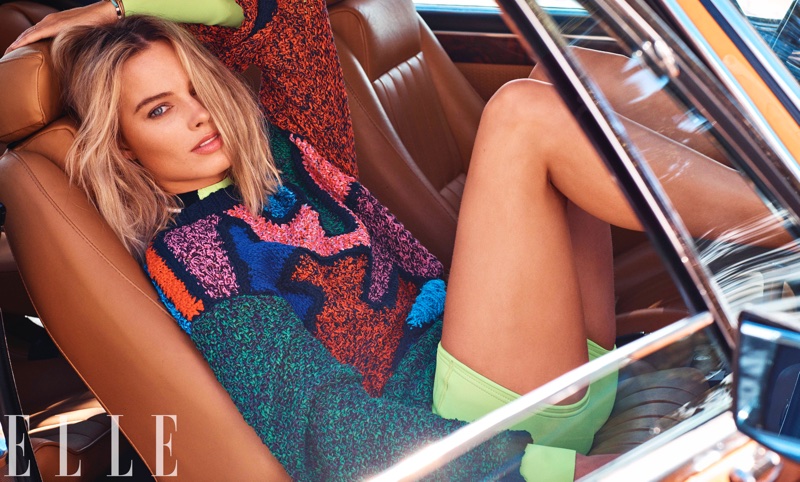 Posing in a car, Margot Robbie wears Missoni sweater with Body Glove wetsuit
comnum(0) tbcount(0) tbcount(132)
Categories:
Other Brands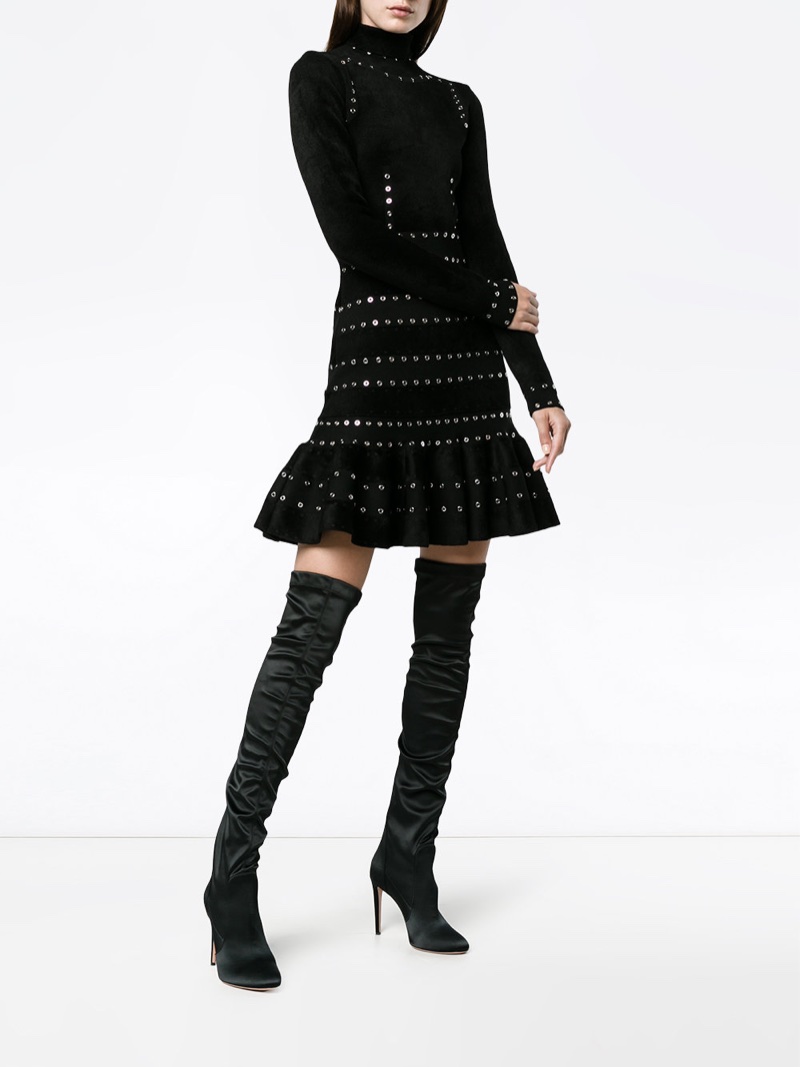 Alexander McQueen Long Sleeve Dress with Eyelet Stud Detail $1,890 (previously $3,150)
This long sleeve dress features rebellious stud details with a ruffled hem.
Farfetch's major winter 2018 sale is getting even better. The fashion retailer's discounts now go even further with a special promotion taking an extra 20% off. From coats to dresses to boots to sandals and handbags, make sure to update your wardrobe with these finds. Choose from top brands such as Alexander McQueen, Valentino, Dolce & Gabbana and Chloé.
So how do you get the extra 20% discount? Use the code 20janat checkout for the extra savings. But hurry because the promo code ends on January 13th. See our top picks from the sale below and shop more at Farfetch.com.
Related: Coach's Winter Sale is On!
FARFETCH WINTER 2018 SALE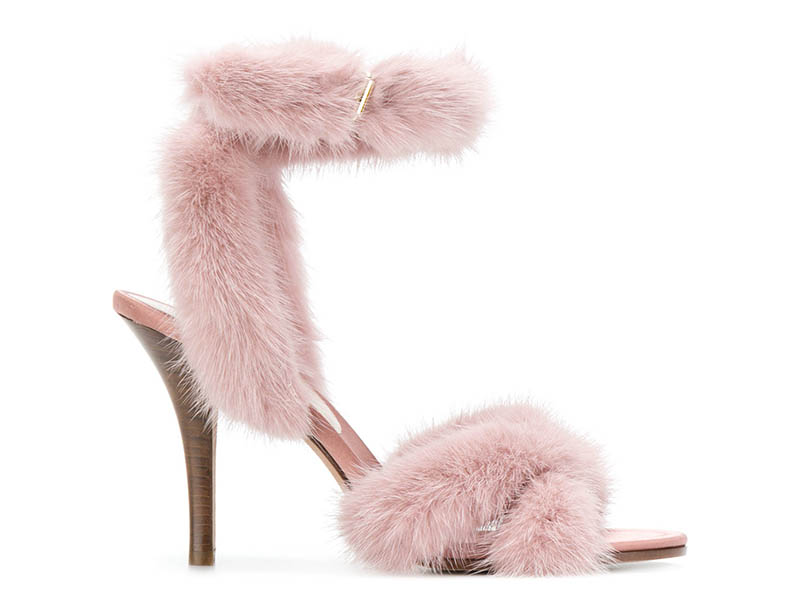 Valentino Pink Fur Ankle Strap Sandals $897 (previously $1,495)
Stand out from the crowd with a pink mink fur sandal decorated with an ankle strap.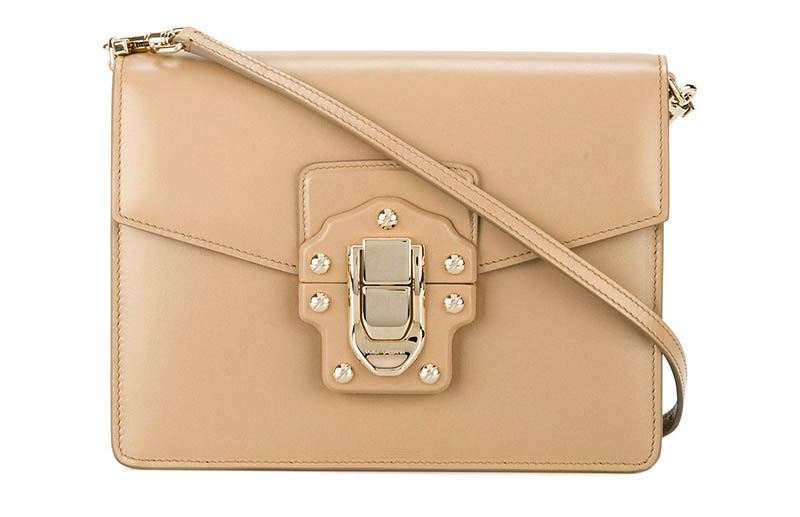 Dolce & Gabbana 'Lucia' Shoulder Bag $1,377 (previously $2,295)
This beige leather bag includes gold-town hardware with a padlock fastening detail at the front.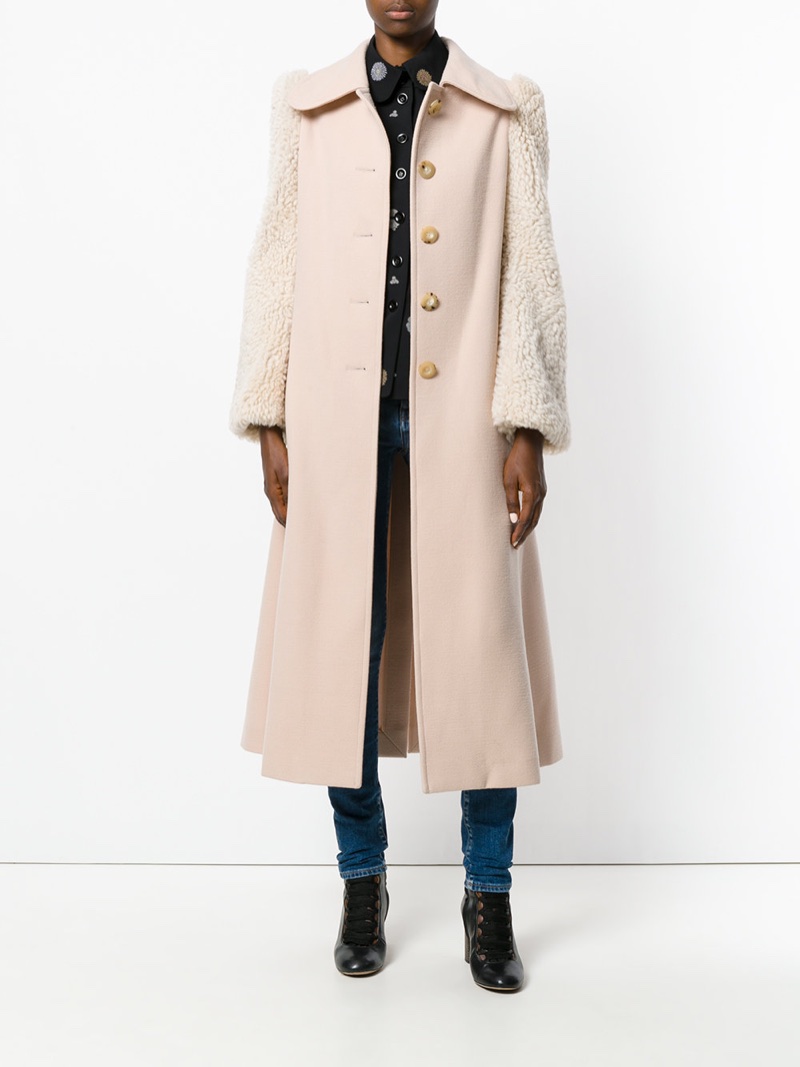 Chloé Shearling Sleeved Coat $2,098 (previously $4,195)
Channel 1970's vibes in a shearling sleeved coat with a gold-tone button front.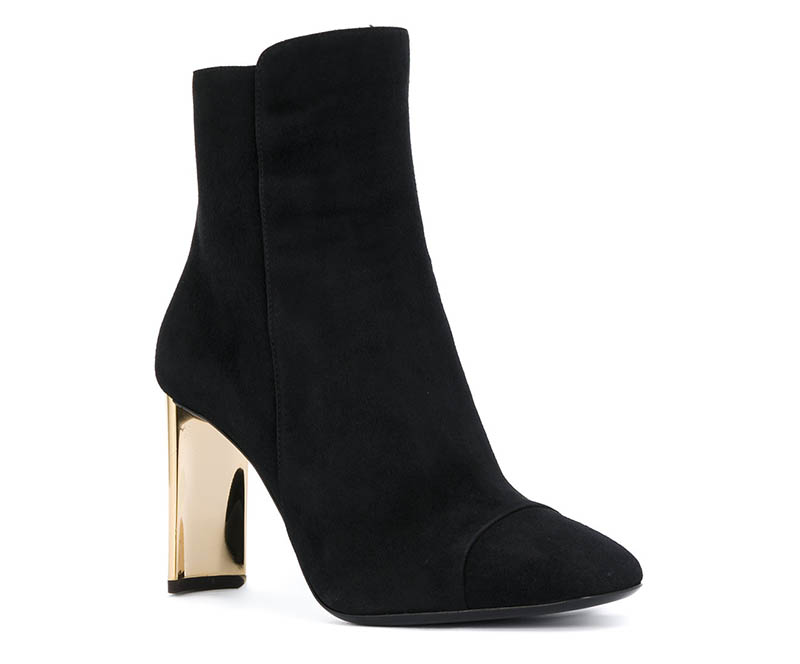 Giuseppe Zanotti 'Jessica' Boots $475 (previously $950)
A suede ankle boot comes with a gold-tone heel and side-zip closure.
Categories

New Posts

Hot Posts